What I Saw and Learned in New York
Protect Your Time. Look at Art. Draw About it.
Hellooooo Grown-Ups Table!
What a wonderful past two weeks we've had. From the looks of everyone's artwork and conversation1, seems like we all loved Maira Kalman's Q&A's and assignment. If you haven't checked out the chat yet, take a look. Everyone is so thoughtful and supportive. (If you are new here, check out the GUT introduction page and say hi.) And we will definitely have more Visiting Artists, and soon. There is so much to look at, learn from and draw out there. Which brings us today.
Last week I went to NY to look at art.
I used to go to NY for work regularly. I would pack in as many meetings and social visits and prospective work talks as possible. After a few exhausting days, I'd rush to the airport, fly home and collapse, often without seeing a single piece of art. But not this time. This time I went to Look at Art. I dedicated entire days to visiting museums. My mantra: "Sorry, I can't. I'll be at the Met." I repeated it often to others and more often to myself.
As a result, two things happened:
One, I saw a lot of art. Like really awesome, brain-tickling, heart-expanding art. I wandered around museums. I took notes and drew sculptures and sketched paintings. I took my time.
Two, the space left open by not packing in plans ending up allowing for unexpected magical encounters. Reader, I gave the universe space to unfold. And boy did it deliver.
It was a dream trip. I am fortunate to get to have this experience and I'm excited to return and share with you the best of what I saw. What follows is a sort of scrapbook, if you will, from visits to NY museums and one DrawTogether Classroom. But I can tell you right off the bat what I learned: artists must create and protect our space and time. And we need to look at art. It's food. Our drawing assignment this week gets at these two lessons, and I hope it leaves you feeling fueled, too.
But first, a big ol' visual NYC scrapbook!
What I saw (and loved) in NY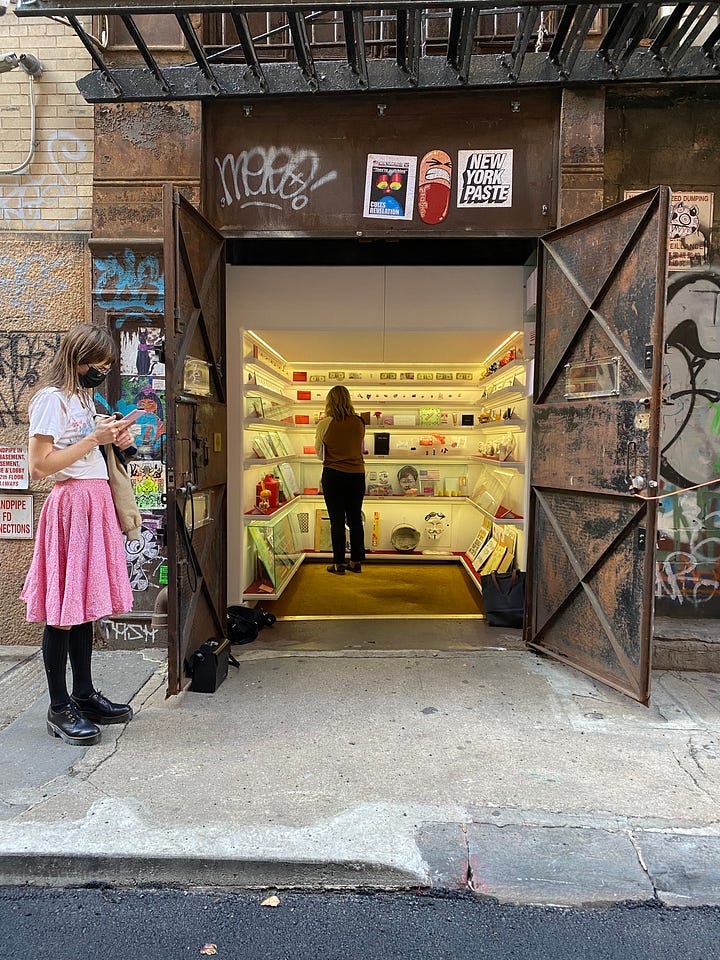 A tiny museum located inside an elevator shaft in an alley, the Mmuseumm is dedicated to "object journalism": the meaningful stories in everyday objects. (Remember our William Carlos Williams-inspired week of drawing Things?) The designer/artist Alex Kalman opened the Mmuseumm in 2019. Exhibits rotate every year or so. The theme of the current show is Power, and each shelf holds a collection of objects that tell a story, like "Personal Possessions of Mass Migration." "Last Meal Receipts." "Objects of Protest."
It's one thing to see an artist's famous painting in person, but another thing entirely to see the sketches they made to preparation for it. Do these look familiar to you?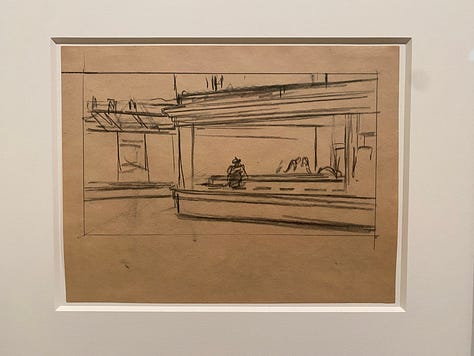 Amazing, right? Even more amazing: did you know Hopper was a watercolor master?? I DIDN'T EITHER! I FREAKED OUT THEY ARE SO GOOD. I was able to get close enough to work out his techniques and process, and what I saw took my breath away:
Keep reading with a 7-day free trial
Subscribe to DrawTogether with WendyMac to keep reading this post and get 7 days of free access to the full post archives.