GUT Visiting Artist: Tucker Nichols
"Time works differently in the studio." A video visit, Q&A and assignment with one of my fave artists ever
Welcome to the DT Grown-Ups Table! New here?

Head to the intro

s and say hi. Been at the table a while? Check out

who has joined

and welcome new GUT members. Want to share your drawings with the group? We do that in members-only chats on the Substack app -

download it here

(now available to everyone with a smartphone.) Questions, comments, feedback? Leave it in the comments. So darn happy you're here. xo,wm
---
My GUT friends! Hello. I'm so happy you're here.
I'm not gonna lie. It's been a hard week. Month. Year. On days like these I try (try!) to remember that it will be okay in the end, and if it's not okay, it's not the end1. That, and that drawing always helps us find our way through. Another thing that helps in tough times is looking at art that makes our heart grow. One artist whose work does that for me without fail is Tucker Nichols. So it's with great honor that I get to introduce you to Tucker and his work today. He is our new GUT Visiting Artist.
Paying Subscribers: watch the video above for a little tour of Tucker's studio - and his piles of artwork - in San Rafael, CA. (The video was edited by the one and only Caroline Paul. Thank you, C.❤️)
Tucker Nichols
If you don't know Tucker's work yet, get ready to fall in love. Tucker's work is deceivingly simple and inspiringly playful. His drawings and paintings are usually representational - meaning they look like something you can identify- with subject matter ranging from Flowers to Landscapes to Maps to Bodies to Sculptures to You Name It. (Paying subscribers, watch the video above for a comprehensive look through Tucker's work.) But no matter what he's creating his lines and color and shape and composition are always a wry, clever smile carrying a whole lot of deep soul, giddy joy, and wonder. His work "transfers energy."
I first fell for Tucker's work 15+ years ago when he had an exhibit at the now closed Lincart gallery in SF. His work was a combo of simple, funny, and smart - a killer trifecta - yet it was also abstract and left space for questions and imagination.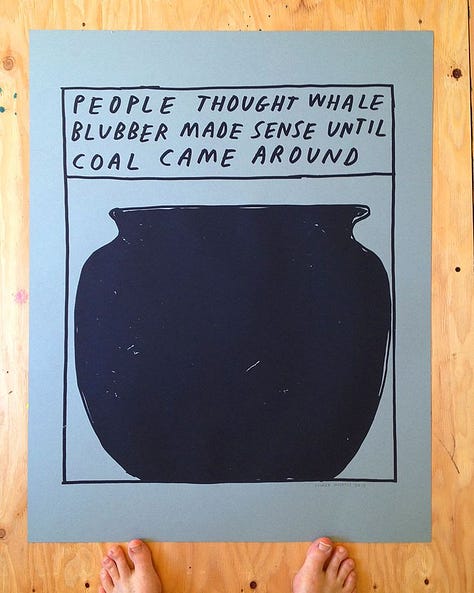 In addition to drawing and painting, Tucker makes sculptures using found objects. Sort of 3D versions of his painting, his sculptures are simple but contain an incredible sense of color and shape and scale and silliness. Each offers a little loving attention to the world.
Tucker shows his work in galleries (hooray Gallery 16!) and also makes art for publication, including illustration and editorial assignments for places like the NYT or New Yorker, and even for the occasional corporate client. Tucker works a lot. His studio contains piles and piles (and piles!) of drawings and paintings, experiments and explorations (watch that video above for proof.) Some of his paintings have been painted over three or four times - meaning each painting has multiple paintings underneath.
Last week I visited Tucker in his studio in San Rafael. The following conversation stems from our talk, and I took most of the photos inside his studio. Tucker is not secretive about his process or techniques - quite the opposite. He really opened it all up for us. In addition to his generosity with his thoughts, experiences and art supplies, Tucker also gives us our new drawing assignment.
So get out your sketchbook and a dark pencil. You may want to take some notes. <3
Conversation with Tucker Nichols
Wendy: A lot of what we talk about in DrawTogether is LOOKING; learning to look at the world with fresh eyes. Something that drew me to your work many years ago was your sense of composition - not just on the page, but how you arrange the world, visually. Where do you think this came from?
Watch with a 7-day free trial
Subscribe to DrawTogether with WendyMac to watch this video and get 7 days of free access to the full post archives.