Discover more from DrawTogether with WendyMac
Drawing explorations, lessons, and weekly art assignments from New York Times-bestselling artist Wendy MacNaughton. Paying subscribers get full access to the DrawTogether Grown-Ups Table creative community.
Over 38,000 subscribers
DrawTogether Strangers Launches TODAY (and in The New York Times!)
Encouraging people to SEE each another again, two strangers at a time.
NOTE: The GUT Remains paywall-free through the rest of October. Thank you beloved members who make this possible this month. We all sure can use the creativity these days. Sending love.
Save the date: October 30th at 5pm PST/8pm EST, author Gretchen Rubin of The Happiness Project and I will be doing an Instagram Live to discuss the creative process, drawing, attention, the senses, and how drawing and art makes us happier and healthier. More in next week's GUT dispatch. Now onto more urgent matters.
---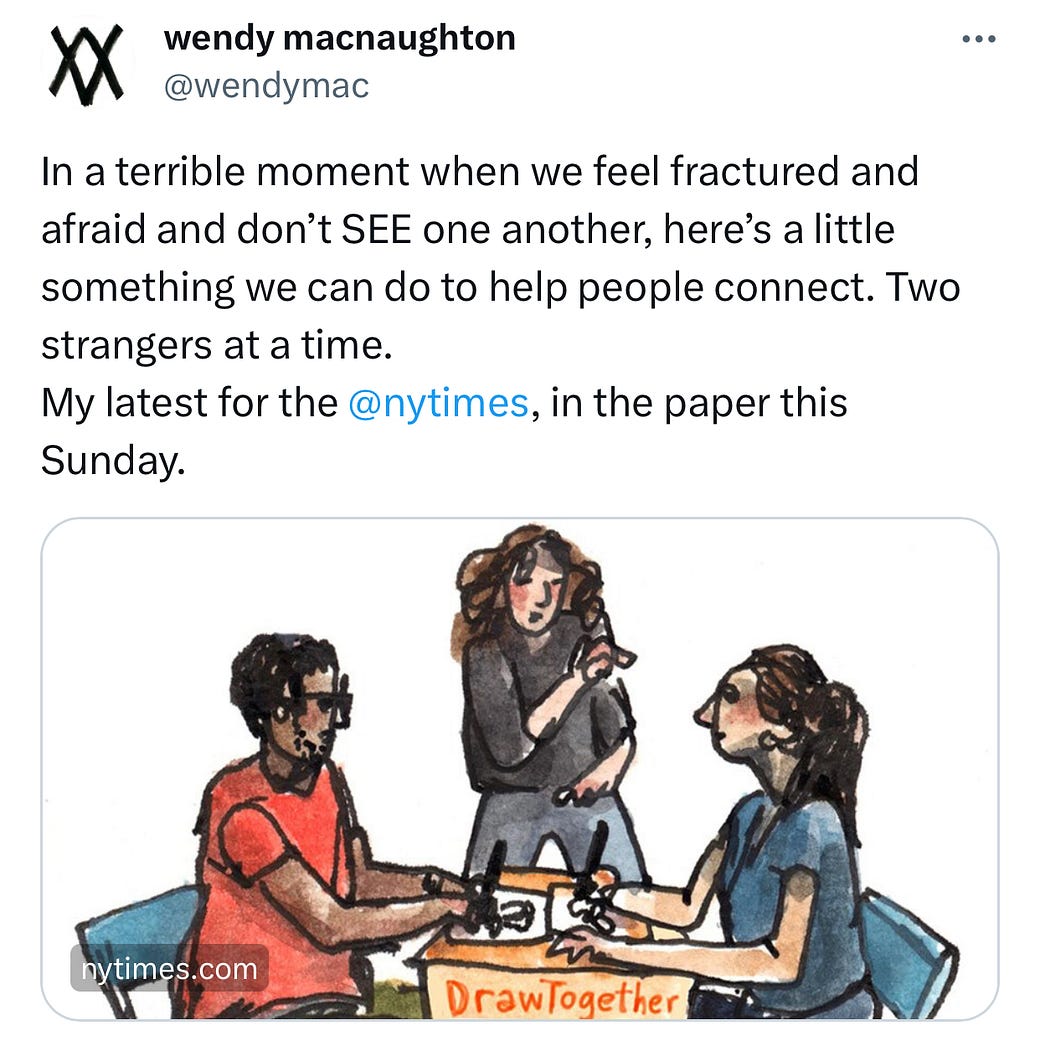 Hello my dear GUT friends.
This has been a hard week. The Israel-Hamas war has us reeling and frightened, feeling sad and helpless. Differing backgrounds and opinions leave many of us feeling fractured in our own communities. Honestly, it's too much to hold - and I have no idea what to do about any of it. I am not a policy person. I am a not a historian. I am an artist. And if you are reading this, you probably are, too.
I'm going to remind you (and myself!) that artists do have an important role to play in moments like this. It is the artist's responsibility, as the great Ben Shahn says, to "minister to the spirit". We can use our art to ask questions. To imagine what's possible. To point towards deeper truths. To create. To connect.
To that end, I'd like to make a small offering of something we, YOU, can do this week. Or next Or the week after. It is a little drop in the bucket, but I believe it offers some hope, and a teeny tiny step in a more humane direction.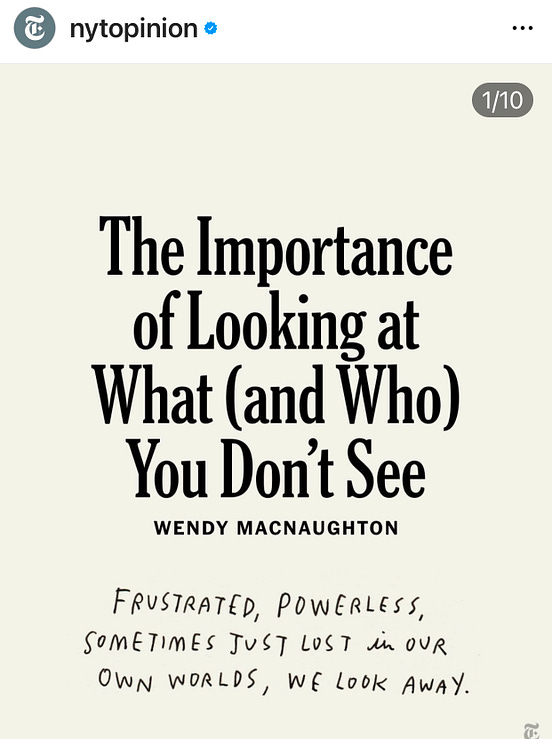 You may have seen my piece this week in The New York Times - either online or in the Sunday paper (today.) This week I'm inviting you all to join me in this project. To drawing as a way of looking, seeing and connecting with one another.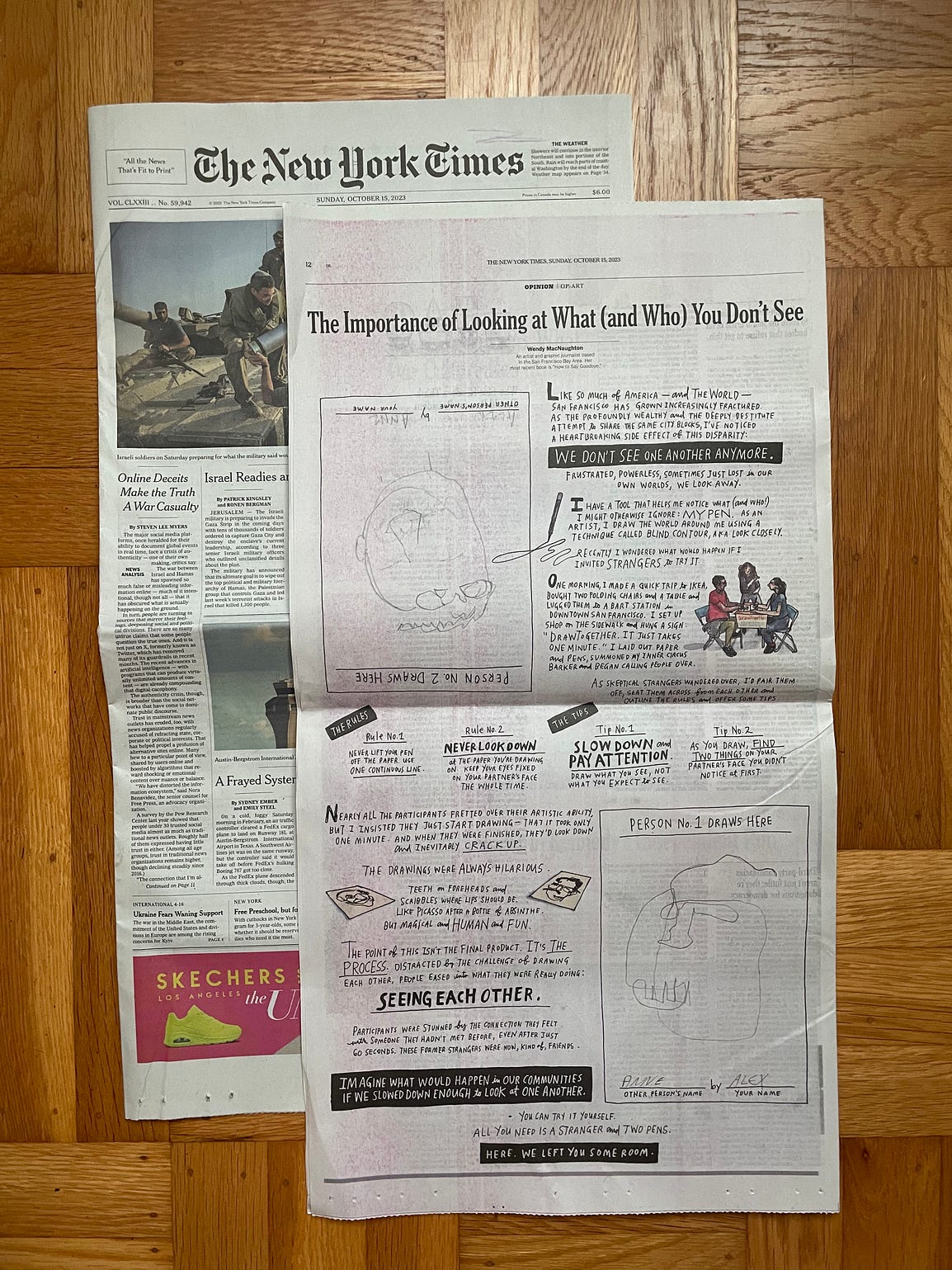 DrawTogether Strangers launches today. It's a global art piece that connects people through the simple act of looking and drawing, two strangers at a time. It's a public project anyone (YOU!) can do, anywhere, anytime, using a few simple supplies and straight-forward script. I've created a toolkit to make it easy to do, and a way to share drawings online and submit physical art for a future publication and/or exhibition. It's a simple but powerful project. I hope you will join me and help connect people and bridge divides from the inside out.
Drawing is Looking and Looking is Loving
Here's a little context.
My dear friend
ends every email with this quote from the late nun Mary Lou Kownacki,
"Engrave this upon your heart: there isn't anyone you couldn't love once you heard their story."
Similarly, I believe there isn't anyone you couldn't love once you drew their portrait. Why? Because when we draw people, we look closely. And when we look closely at someone, we see them. And when we really see someone, we cannot help but begin to love them.
Earlier this year, I told you about a public art experiment I did in SF. Frustrated with the growing disparity in San Francisco, country, and world - feeling despair that PEOPLE DON'T EVEN LOOK AT EACH OTHER ANYMORE - I drove to IKEA and bought two folding chairs and a table, cut up some cardboard and painted the words: "DrawTogether: It just takes 1 minute." I strapped it all to a rolling luggage card, took it to the subway, took the subway to Downtown SF, got off at the first stop, and rolled my cart to the downtown city side walk.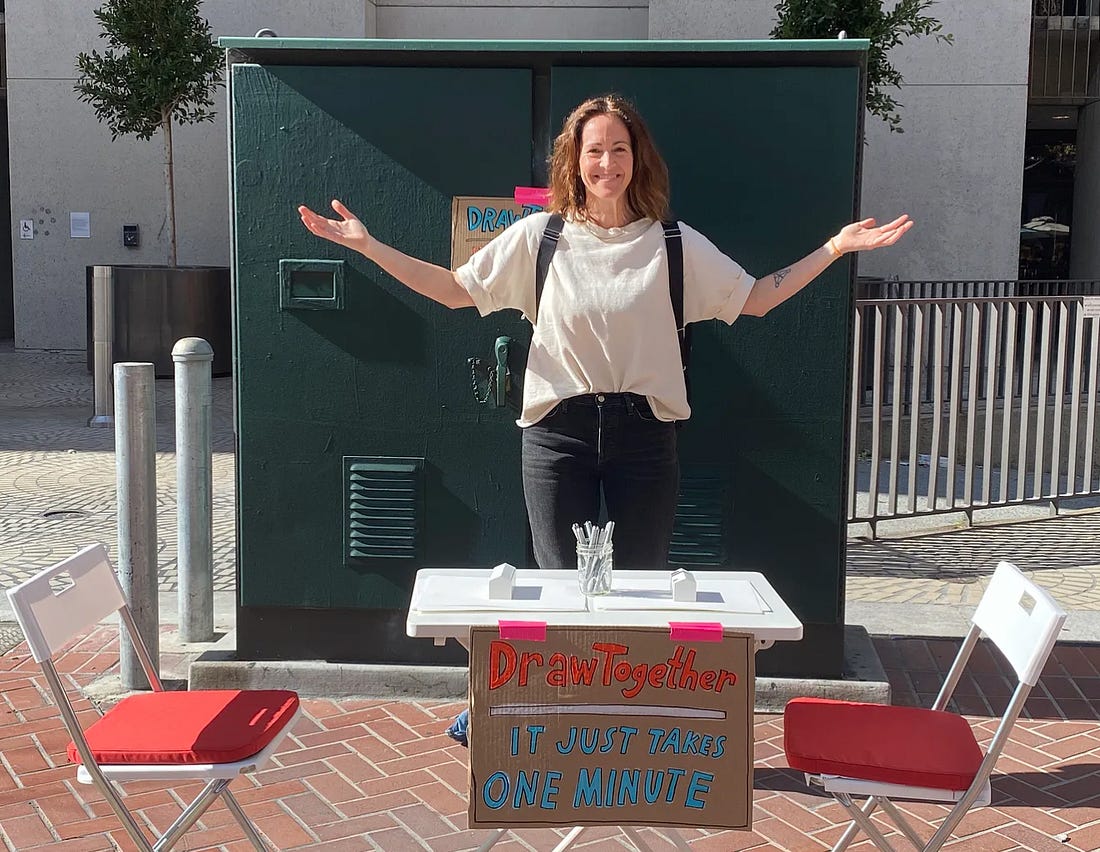 I set up my little drawing table and after a big deep breath to calm the nerves in my belly, put on my circus barker hat and began calling over strangers. As they approached, I'd pair people off - people who would not otherwise have met - sat them across from one another and gave them the run down:
They were going to draw each other.
The rules: they were not allowed to lift their pen off the paper, NOR LOOK DOWN the the entire time. They had to keep looking at each other the entire time. (Yes, blind contour drawing!) Nearly everyone squirmed, citing their lack of artistic ability, but I told them it's not about the outcome, it's about the process. Just go slow, pay close and attention, and breathe.
After 60 seconds, they looked down at their masterpieces and cracked up. The drawings were all hilarious. Like Picasso after a bottle of absinthe. But they were also full of life. Hilarious. Human.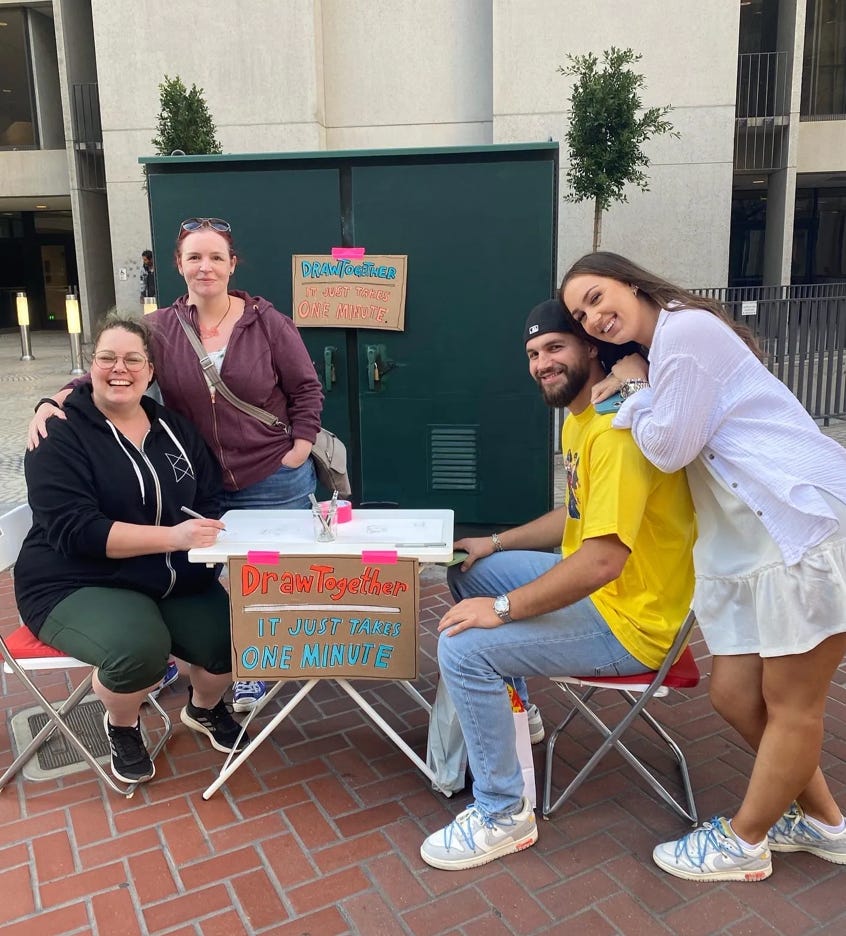 The point of this ins't the final product. It's the process. Distracted by the challenge of drawing each other, people eased into what they were really doing: SEEING EACH OTHER.
Participants were stunned at the connection they felt with someone they hadn't met before, even after just 60 seconds.
I went on to set up this art experiment in Golden Gate Park, then downtown Los Angeles, then New York City's Washington Square Park and The Highline. In every place, the response was the same. After just 60 seconds of drawing each other without looking down, people who usually avoided looking at one another were no longer avoiding eye contact, were laughing together, and were, sort of, friends.
Imagine what would happen if we all slowed down and LOOKED AT EACH OTHER, even for just 60 seconds. It would be so much harder for us to ignore one another, to dehumanize one another…
I truly believe it would change our communities from the inside out.
Today, I invite YOU to join me in hosting DrawTogether Strangers in YOUR community.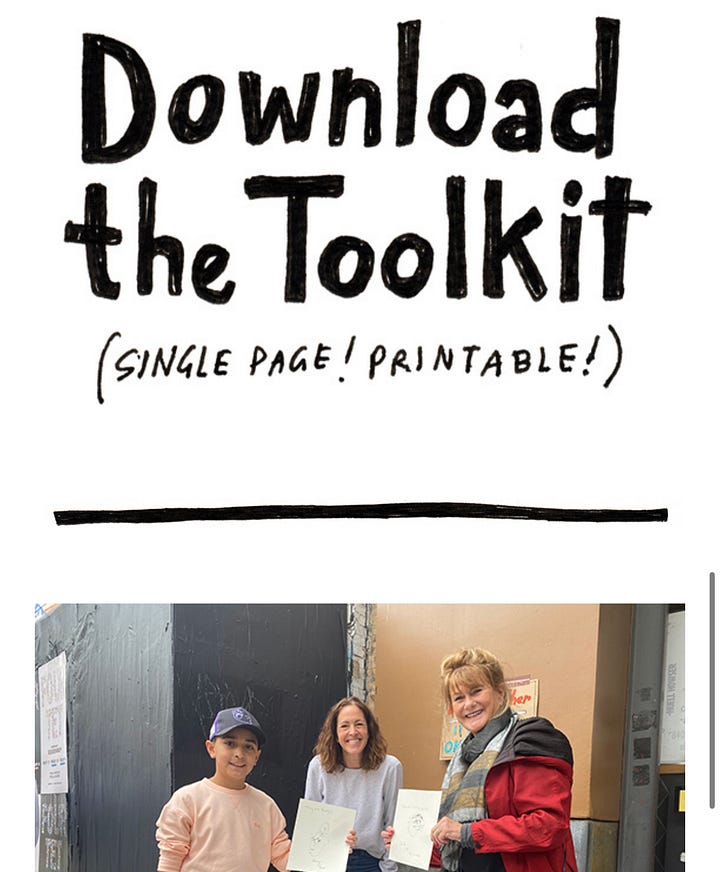 The DrawTogether Strangers Toolkit
When I shared this project earlier with the GUT and on instagram, about 200 people wrote said you'd like to host a DrawTogether Strangers pop-up. People around the world - including in Israel. Now, months later, the timing seems right to launch the Toolkit.
The DrawTogether Strangers Toolkit includes all the info YOU need to create a DrawTogether Strangers experience: a supply list, instructions on working with the public, a script to use to ensure the project's impact, and info on how to share the work publicly. There's even a downloadable, printable version to bring with you.
My hope is people a bunch of us - GUT members and beyond - will set up booths around the world, and give people the experience of looking/seeing/drawing one another, and then we can gather the resulting drawings and create a publication and/or exhibition of portraits of people around the world SEEING one another. Big dream, sure. But totally doable, fun, and meaningful.
I hope you will be part of it.
Assignment
This week, I'm inviting you all to do one of two things.
Use the Toolkit and set up a DrawTogether Strangers pop-up in your community. That could mean a park, a library, a school, a street corner, a community center… any place were there is an intersection of people. I know it may seem scary to put ourselves out in public like that, but I promise you, it's a fun and meaningful experience. Do it with a friend.

Grab a New York Times today (Sunday) if you can, grab a stranger, open it up to the back page of the Opinion section, and draw each other for 60 seconds without looking down. IF you can't find a stranger, find a friend or family member (maybe one who you have some friction with!) If you can't find a Sunday NYT, use two pieces of paper. (The exact instructions are in the DrawTogether Strangers Toolkit!) But no matter what, take 60 seconds to slow down and look closely at someone and DRAW.
For folks who want to keep going, I suggest heading out into the world - a coffee shop, a park, a library - any public place where there's an intersection of people - and draw people without looking down. Make notes of what you observe. And better yet, do it WITH A FRIEND. Everything is better….
Also, in the comments below, tell me if there is a kind of creative act that is helps YOU feel connected in times of stress, anxiety, grief and despair. Maybe it's drawing, or maybe it's cooking or knitting or playing guitar or dancing or walking or gardening… Let's share and support each other in the comments below.
---
Speaking of friends, a huge and special THANK YOU to everyone who helped make all of possible - amazing editor at NYT Joanna Pearlstein, ADs, Damien Saatdijian and Frank Augugliaro, and collaborators supreme Chris Colin, Kyle Ranson-Walsh, Lisa Hazen, Kyrsten Hensley, Courtney Martin, Jon Mooallem and so many more folks. Nothing good gets done alone.
Alright my wonderful friends. I'm heading to NY for the week. I'll feature last week's amazing 2 point perspective drawings and some strangers drawings and maybe a little NY news in a separate mid-week dispatch.
Meanwhile, sending my best love and creativity to your homes and hearts. It's a hard time. Let's use our hearts, eyes and ears to connect with people and move in the direction we want to grow - liberation, creation, and imagination.
Everything is better…
w
❤️